In June 2020, the new album of Post Scriptum Jazz was created. In a time of pandemic and emerging political tensions, Everest Media Studio in Minsk became a place of retreat and creative power to create a work rich in wonderful melodies, longings and at the same time full of energy. Influences of Latin American, classical, soul and fusion music within their own compositions are clearly audible. The musicians were inspired by artists such as Joshua Redman, Brad Mehldau, Chick Corea, Robert Glasper, Aaron Parks, Cory Henry, Mark Guiliana and Seamus Blake.
The young Belarusian band with Kiryl Matsenka on saxophone, Alexey Kazak on keyboards and Fender Rhodes, Alexey Maksimov on drums, Pavel Orlov on bass and Eugene Ryshkevich on guitar met with us for an online interview. Kiryl and Eugene were present on behalf of the band, and Kseniya Kawko and Ephraim Hahn on behalf of the production team.
"In 2020 I returned to Belarus for a few weeks and had the idea to use the time productively and produce an immersive album in the studio with local musicians. I immediately thought of Post Scriptum Jazz. Back in 2014 we did first projects together and it was always a nice collaboration"recalls Kseniya, sound engineer and producer of the album.
"It was always my dream to record an album with my own compositions. Before recording, I could only imagine in theory what exactly 3D audio meant. I then fully trusted Kseniya's experience in its implementation," says Kiryl. "When I heard the album immersively for the first time at the beginning of February, it was really an overwhelming moment for me. It all sounds so alive, I felt like I was back in the recording room with my band. This new listening experience immediately stimulated a lot of new ideas for new arrangements and future compositions for me."
The band Post Scriptum Jazz was formed during the musicians' studies at the Minsk Glinka Music College. The quintet performed publicly for the first time at the Saxophoniana Festival 2012. This experience of making music together was already incredibly inspiring at that time and welds Post Scriptum Jazz together to this day, despite several formation changes. Numerous performances followed until there was a sudden break: it was not the Corona Pandemic that brought independent musical life to a halt, but the current situation. Eugene, who currently still lives in Minsk, tells: "It has become quiet. The situation in Belarus is very tense and extremely difficult to manage. We as musicians hope for better times and that we will be able to perform again soon. That will probably happen outside Belarus." Kiryl adds: "We are currently trying to organize performances in Poland, for example, so that we can pursue our art again."
All members of the band compose and arrange themselves, including for the album New Birthday. Kiryl and Eugene talk about the work before the recording: "We had tried a wide variety of compositions in the preparation time for the album, refined them in jam sessions, partly discarded them again and reconceived them."
Most of the compositions on the record are written by the saxophonist and he adds to them: "It is irrelevant who composed a title. What is much more decisive is how we create and develop the music together. That's why it's very important for me to play concerts with these compositions with Post Scriptum Jazz. With other musicians, it just wouldn't be the same music."
On the question of whether individual tracks of the album have a special meaning for the musicians Eugene says: "The piece Ballad holds a special place for me. With such compositions it is difficult not to lay it on too thick. It was important to leave the structure transparent but at the same time to bring in my own improvisations. Then after hearing the final version, I couldn't imagine removing or adding anything, the form was perfect!"
And Kiryl tells: "For me, two songs on the album stand out. One is the title track New Birthday, because in it the style of Post Scriptum Jazz, namely a combination of complex rhythms, atypical transitions with beautiful melodic lines and general harmony, is expressed particularly clearly. On the other hand, the track Failed Steps turned out particularly lively: We had a lot of fun recording it in the studio, and that energy is perfectly reflected in the album version. This is partly due to the sound but also to the arrangement: the mix of synths and bass octave makes the track even denser. The guitar solo in this track is definitely my favorite on the whole album!"
From the sale of each album € 10,– will be donated to the initiative #artistsinshelter. "The current situation in Ukraine is depriving many artists of wages and bread. #artistsinshelter supports affected artists and helps to give them a new start. We want to support that and set a sign with our music,"explains Kseniya.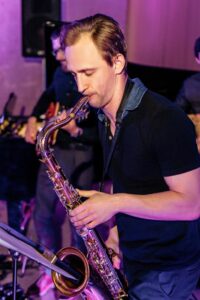 The album was released byImmersive Sound Art. We thank you for the interview and this wonderful album in the hope that the music of the band Post Scriptum Jazz will inspire many people to make peace.