On February 18th Olivier Latry, one of the most famous organists of all time, delights his audience and fans with a novel release. On top of all that, Deutsche Grammophon also presented a deluxe edition of Karl Böhm's interpretation of Mozart's The Magic Flute and a live recording of Johann Sebastian Bach's Johannes-Passion, performed by Sir John Eliot Gardiner, the Monteverdi Choir and the English Baroque Soloists.
At the instance of Olivier Latry's 60th birthday a music box, including 10 CDs and a Blu-ray with several recordings for Deutsche Grammophon, was released. The masterpiece consists of Latry's legendary recording referring to Olivier Messiaen's complete organ compositions, his well-known album "In spiritum" with pieces by César Franck and "Midnight in Notre-Dame", in which Latry transcribes timeless masterpieces by Wagner, Bach and others. Additionally, previously unreleased tracks are presented on another CD and a bonus CD provides us with his recordings for Decca France. The Blu-ray presents a selected range of recordings in 24-bit stereo, 5.1 surround sound and in a new Dolby Atmos remastering. The box also offers a booklet that tells Latry's stories of the legendary organ of Notre-Dame and provides us with essays by Günter Lade, a musicologist. Besides, it gives important information on the set-up of the organ and its stops. In 1985 Latry was a titular organist in the Notre-Dame cathedral. He glorifies its organ as a great miracle and a remarkable visual and tonal phenomenon.
Karl Böhm's interpretation of Mozart's The Magic Flute in 1964 is considered a classic masterpiece well established in the history of opera. It is characterized by a prestigious cast of singers. Accordingly, Fritz Wunderlich plays Tamino with his stunning tenor voice, while Franz Crass performs the Sarastro arias in a deep bass voice and Dietrich Fischer-Dieskau slips into the role of Papageno, a character who is half man half bird. The high-quality deluxe hard cover edition includes 2 CDs and a HiFi Pure Audio Blu-ray. For the mastering of the latter the original analog audio tapes were used. Additionally, this edition offers a 240-pages book with a number of essays and the libretto translated in several languages.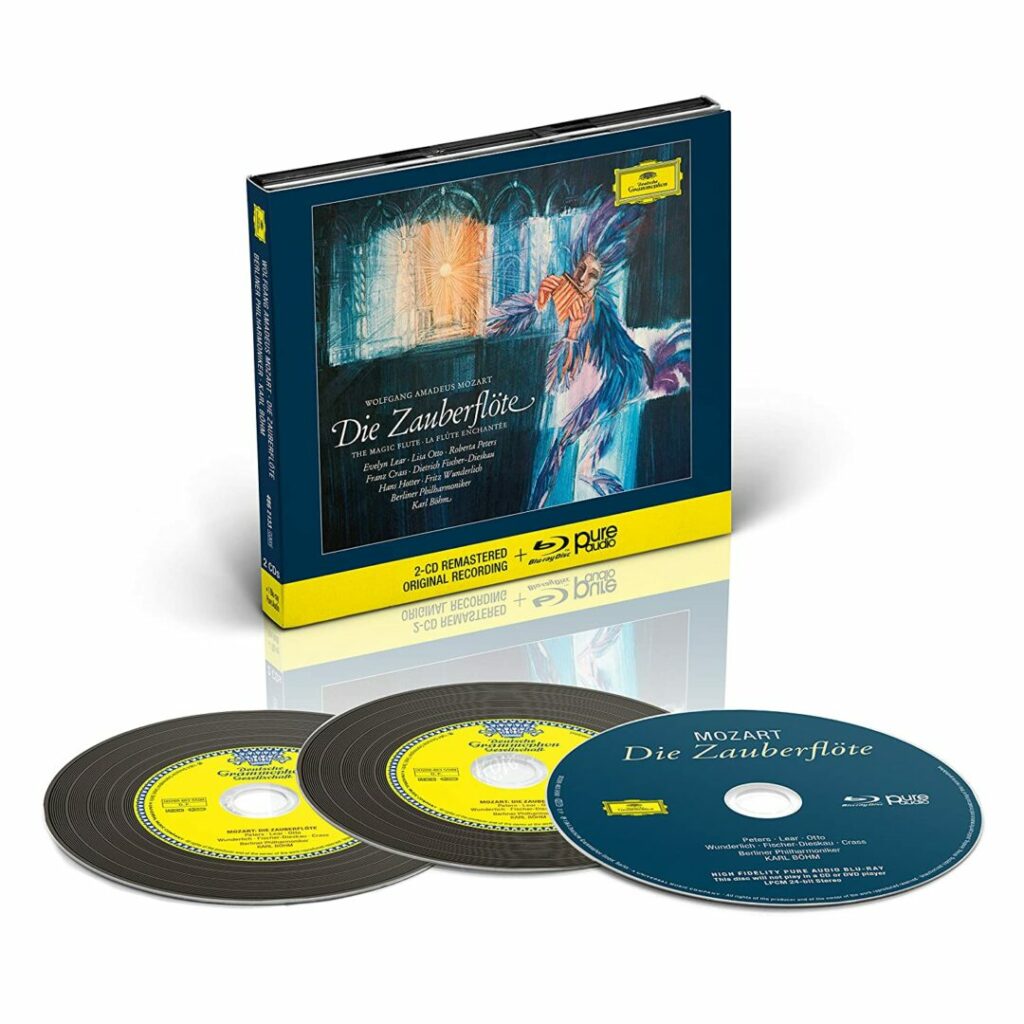 In April 2021 Sir John Eliot Gardiner performed Johann Sebastian Bach's Johannes-Passion together with his ensembles the Monteverdi Choir and the English Baroque Soloists in the Sheldonian Theatre in Oxford. Gardiner studied Bach's piece when he was a school boy and has perfected it since then. The live performance given by these fantastic musicians attracted a wide audience and, thus, a double CD including a Blu-ray in both stereo and Dolby Atmos was produced. The Blu-ray also contains a clip of the entire concert in 4K.